Brian Haberlin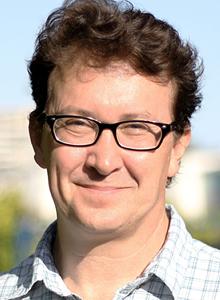 Brian Haberlin began his career working in development for Lorimar/Warner Brothers Television. But he eventually decided to return to his first love, comic books. He signed on with Image comics' Top Cow Productions. While there he branched out to write and create several characters, including co-creating WITCHBLADE, one of the most popular comic titles of the last few years. In 1995 he left Top Cow to form his own studio.
Since, he and his studio has been involved with at least one top ten comic title every month for the last four years and as many as four in any given month. His studio's client list includes all the top comic companies and properties from SPAWN, X-MEN, DAREDEVIL, SPIDERMAN, and countless others.
HABERLIN STUDIOS is a full feature illustration / design studio specializing in comic book related art. Haberlin Studios has been on the cutting edge of illustration, design, and online entertainment for the last three years. We set the trends, setting the creative standard in both story and art for the rest of the artistic community to try to follow.
Digital Art Tutorials
Digital Art Tutorials was created with the goal of bringing industry-proven, professional digital art techniques to the masses. Many of our art tutorials are narrated by the very people who developed, or pivotal in the development of, the various workflows and digital art techniques that have become industry standards.
Photoshop tutorials include the fields of the classical (digital painting, digital inking, and even the hyper-popular comic coloring), to powerful 3D tutorials (Poser, SketchUp, ZBrush, and more!), Digital Art Tutorials provides straightforward instruction and priceless inspiration. Our instructors take great pride creating educational tools that are both affordable and accessible to amateur hobbyists, students and seasoned professionals alike. We're so convinced you will love our products, we offer several free start-to-finish Photoshop tutorials, and previews of all our art tutorials.
Testimonials
"I've always been impressed (and envious) by Brian's continual thirst for growth and rebirth with his art—both of which have been simply staggering. His endeavors prove again and again that he is an innovator and never an imitator."
- Greg Capullo
"Brian Haberlin has been at the top of his field in computer coloring and graphics for years. He's got one of the best skill sets in the business, and knows how to get information across. I highly recommend these great tutorials."
- Marc Silvestri
"Brian Haberlin is the Wayne Gretzky of color!"
- Todd McFarlane
If You are planning buying medicines online, now it is the best moment to do so. Online pharmacies fill millions of online prescriptions everyday. Verapamil is a calcium channel blocker. This treatment works by relaxing the muscles of your core. Absolutely, you have to check with your doc to see whether one of these drugs is a right choice for you. Viagra is a remedy used to treat varied sicknesses. What do you think about 20mg cialis? How you can find more information about cialis dosage 20mg? Some drugstores describe it as . Many possibly think the effectiveness of Viagra is well documented. Fairly, sexual diseases can boost circulation and, even more importantly, reaffirm the joys of living. Such problem is best solved with professional help, generally through counseling with a certified sex physician. Your physician can can offer some treatments that is better for you and your partner. The sexual physic specialist needs to resolve which dosage is proper for you. Typically, dosage of Viagra must be based on your current state.